The long awaited Local Walking & Cycling Infrastructure Plan for Mid Sussex was slightly published earlier this year in March. Unlike the other LCWIPs, there was no public consultation or discussed within a transport committee on the district council like the other LCWIPs.
Like with the other district LCWIPs, they have solely focused within the urban areas, and not inter-urban as those routes would likely be covered within the West Sussex LCWIP which is due to have an 8 week consultation exercise starting shortly in September. This means that the Mid Sussex LCWIP just covers routes within Burgess Hill, East Grinstead & Haywards Heath.
All of these towns have similar design characteristics, which results in opportunities to provide high quality cycle infrastructure is limited by narrow highway corridors, which also tend to be the one of the limited through routes within the towns. The LCWIP encourages the introduction of traffic calming measures & with-flow cycle lanes where space allows. These towns also lack a pedestrian & cycle friendly core such as Horsham, Chichester & Crawley.
Burgess Hill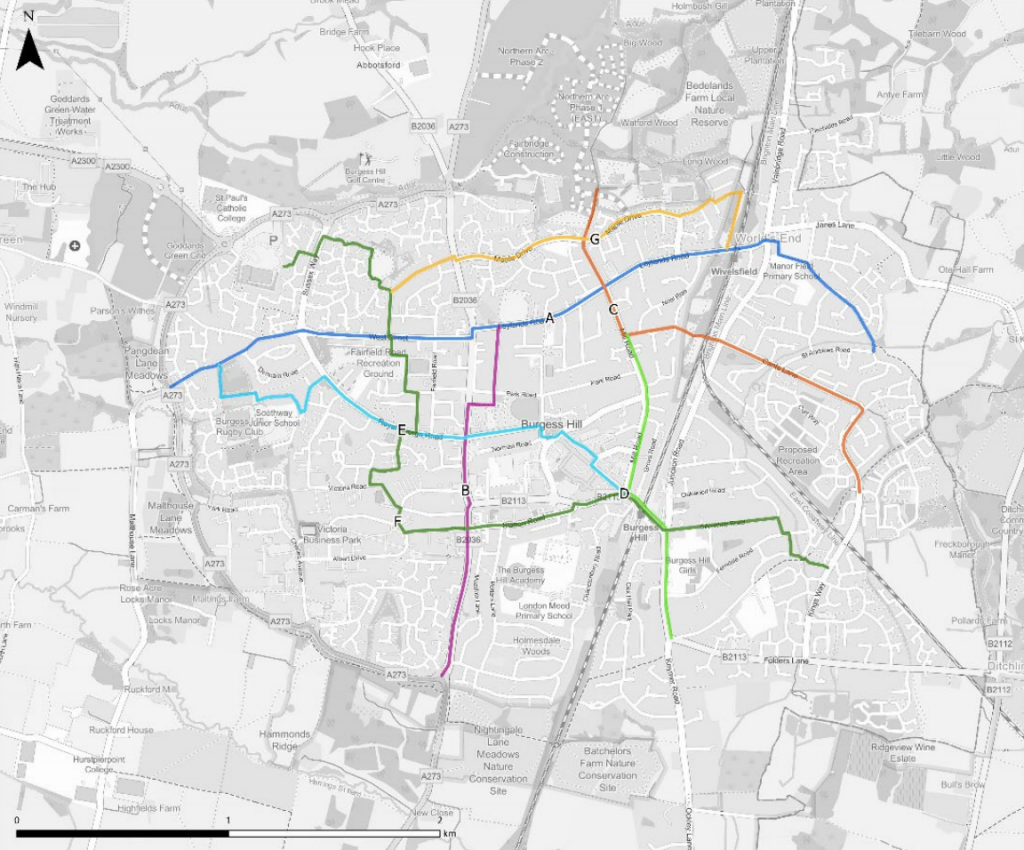 Burgess Hill Features 7 routes. Along these routes there is practically no existing cycling infrastructure, and this plan only loosely overlaps with the routes selected to be improved within the current expansion to the north, Brookleigh (formally Northern Arc) which is shown below.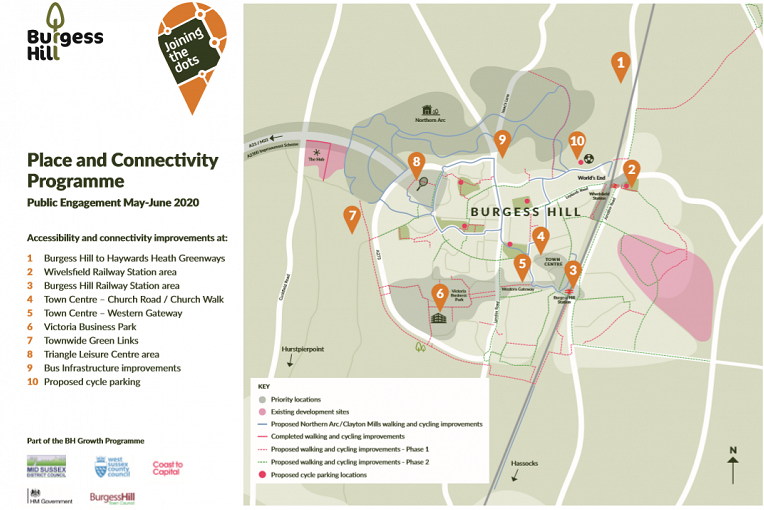 East Grinstead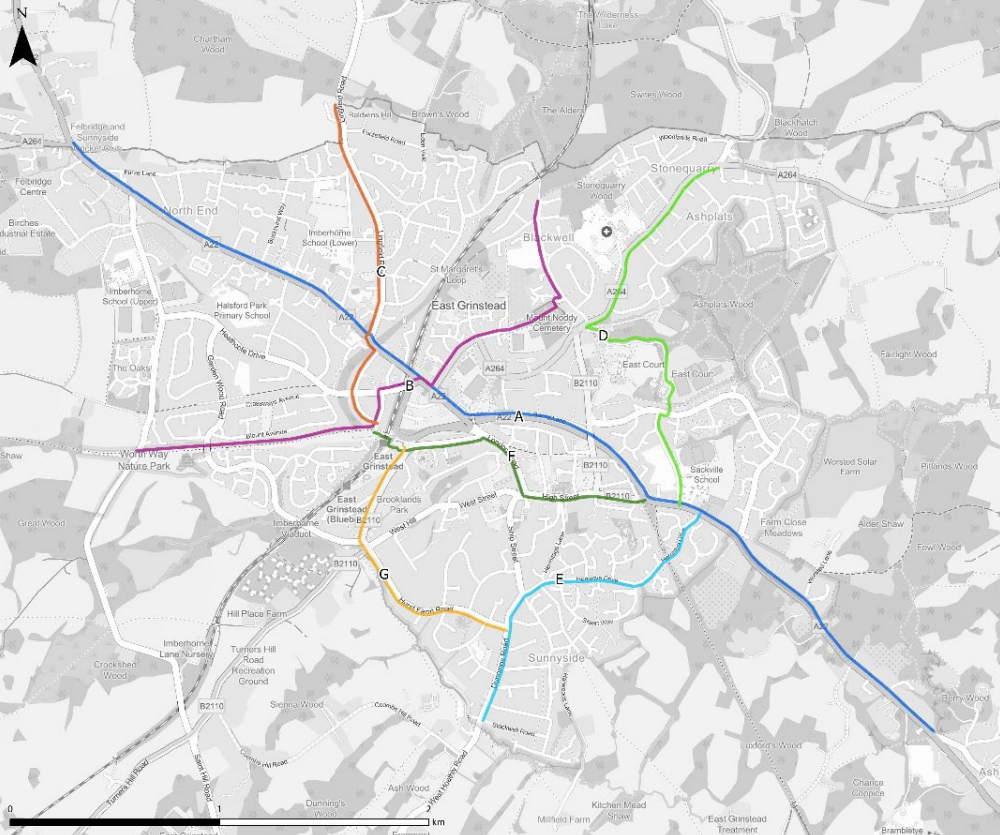 East Grinstead has 7 routes. Like with before most of these currently does not have any cycle provision, other than one section of cycle lane along the A22 & a selected part of the unsealed Worth Way (NCN21).
Haywards Heath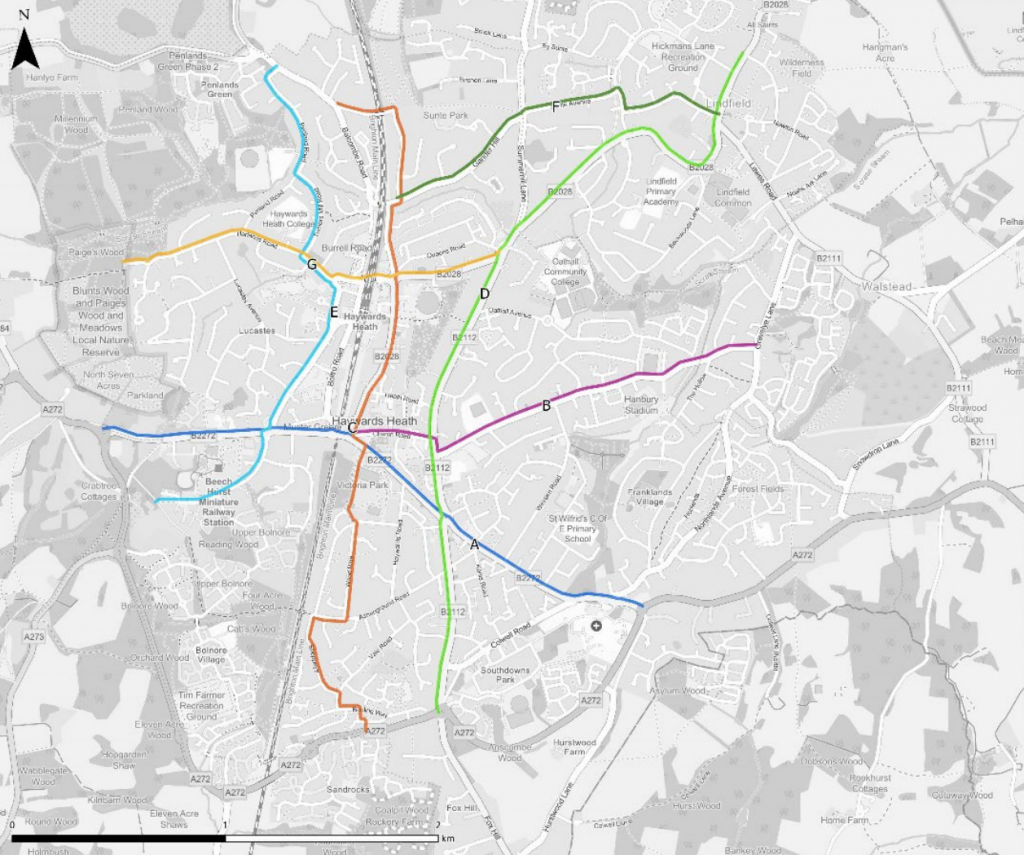 Like with the others, Haywards Heath has 7 routes. Haywards Heath has the least amount of cycle provision when compared the other towns, but the plan doesn't include these existing parts or upgrading existing unsealed routes such as the paths to Bolnore Village or connections to Cuckfield or Walstead.