Worthing and Adur district councils are planning on rolling out their own bike hire scheme, which is likely to operate as an extension of the Brighton & Hove bike hire network. Its unclear at the current time if the bikes will be inter-operable between B&H and Worthing/Adur.
There is planned to be 322 bikes, half of which will be e-bikes. This means there will be 2 bikes per 1,000 residents, which is less than in Brighton's scheme which currently has 2.7 bikes per 1,000.
In total there are 51 planned hub locations, 38 will be delivered in phase 1, all located south of the A27. Phase 2 will add 13 more hubs, most of which will be located north of the A27 in Findon Valley and North Lancing. The hubs will be in three sizes, small (10), medium (20) and large (30). Although due to the modular design, additional capacity can be added.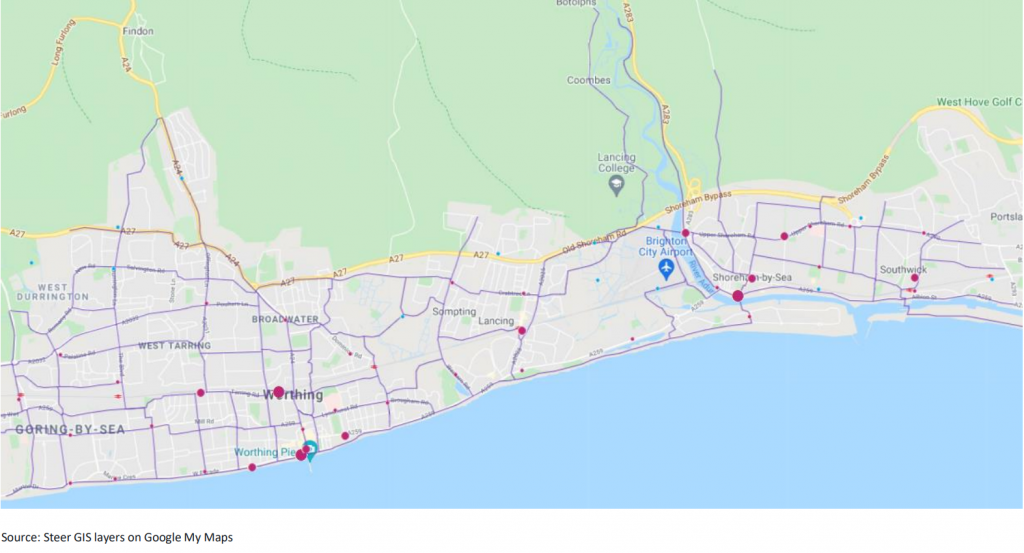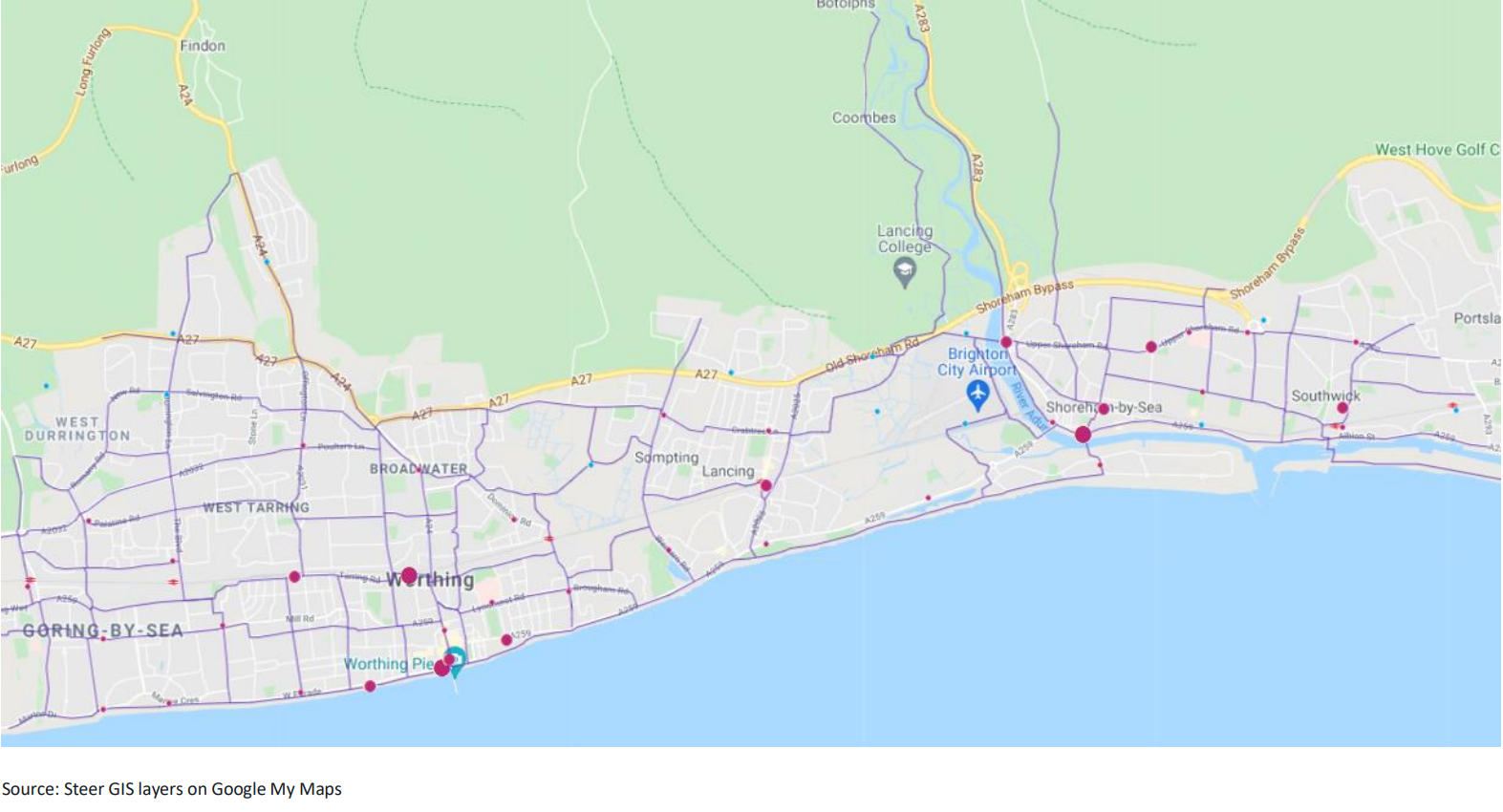 Hub Number
Location
Hub Size
Phase
1
Sea Lane Café
Small
1
2
George V Avenue
Small
1
3
Worthing Pier/Montague Place
Large
1
4
Splashpoint Leisure Centre
Medium
1
5
Chapel Road (KFC) Worthing
Small
1
6
Poulters Lane Car Park
Small
1
7
Worthing Hospital
Small
1
8
Worthing Station
Large
1
9
Brooklands Pleasure Park
Small
1
10
Ham Road
Small
1
11
Sussex Yeoman, Palatine Road
Small
1
12
Goring Road (PO)
Small
1
13
Goring-By-Sea Station
Small
1
14
West Worthing Station
Medium
1
15
Dominion Road Post Office
Small
1
16
The Burlington
Medium
1
17
Grand Avenue
Small
1
18
Goring beach front
Small
1
19
Worthing Town Centre/ Royal Arcade
Shopping Mall
Medium
1
20
Strand Parade
Small
1
21
Lancing Beach Car Park
Small
1
22
Broadwater Cricketer's Parade
Small
1
23
Monks Recreation Ground
Small
1
24
Cokeham Road
Small
1
25
Shoreham-By-Sea Station
Medium
1
26
Shoreham Football Club
Medium
1
27
Southlands Hospital
Small
1
28
Londis, Old Shoreham Road
Small
1
29
Lancing Station
Medium
1
30
Southwick Station
Small
1
31
Ferry Road
Small
1
32
South Lancing (The Broadway)
Small
1
33
Ropetackle Arts Centre
Small
1
34
Southwick Square
Medium
1
35
Old Shoreham Toll Bridge
Medium
1
36
Buckingham Park and Playground
Medium
1
37
Co-op Upper Shoreham Road
Small
1
38
Shoreham Town Centre by La
Patisserie
Large
1
39
Pond Lane Recreation Ground
Small
2
40
Sussex Partnership Foundation
Trust/Arundel Rd
Small
2
41
Worthing Findon Road Express
Small
2
42
West Durrington Development
Small
2
43
Brighton City Airport
Small
2
44
Fishersgate Station
Small
2
45
Ricardo, Old Shoreham Road
Small
2
46
Manor Rd, North Lancing
Small
2
47
LIDL Shoreham
Small
2
48
IKEA Development (no longer going to be IKEA, however landuse will still be retail)
Small
2
49
New Monks Park
Small
2
50
Sompting Development
Small
2
51
Holmbush Retail Park
Small
2