Mid Sussex planning application DM/21/3279 sets out the street design and path design for roads & paths within the Northern Arc development area. This includes the widths, adoptability & design of the ways as well as proposed tree planting along these routes.
Street Hierarchy
Within the development there will be a defined street hierarchy to ensure a road purpose is identifiable and useful to the development such as facilitating bus routes & spine roads.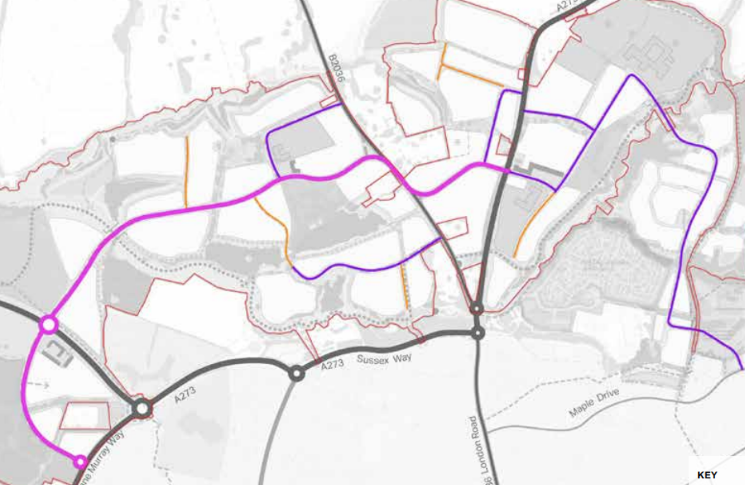 Excluding roads that will make up development parcels, there will be three types of road. These are:
Primary Road – solely Northern Arc Avenue between A273 (Jane Murray Way) & A273 (Issac's Lane) intersecting the A2300 & B2036
Secondary Road – spine links off of existing roads as well as the route between A273 (Issac's Lane) and Maple Drive
Tertiary Road – Providing access to development parcels which do not have access to a type of road above.
All of these roads will be adopted upon completion along with most residential streets. Twittens, Mews & Courts are likely to remain under management of the to be formed Northern Arc Management Company (name not yet confirmed). Open areas beside the highways are also likely to be under the same management.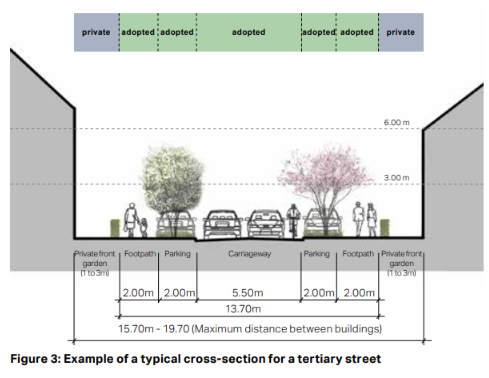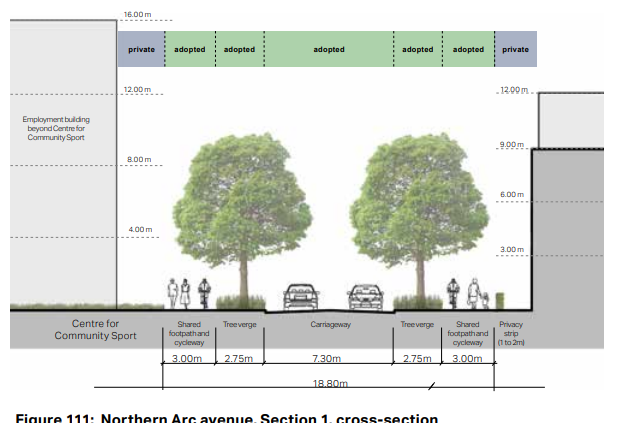 Street Design
Road will have minimal signage and markings within the site because they create a car-centric environment and contribute to street clutter. No roads will have centre lines except Northern Arc Avenue which is also the only road which will have a design speed of 30mph, all other roads will be 20mph, or 10mph, although signage and a TRO supporting this limit is unlikely due to the signs required.
Traffic calming will rely on the layout of physical environment rather than signs & lines to cue drivers into adopting the desired behaviour.
Walking & Cycling Strategy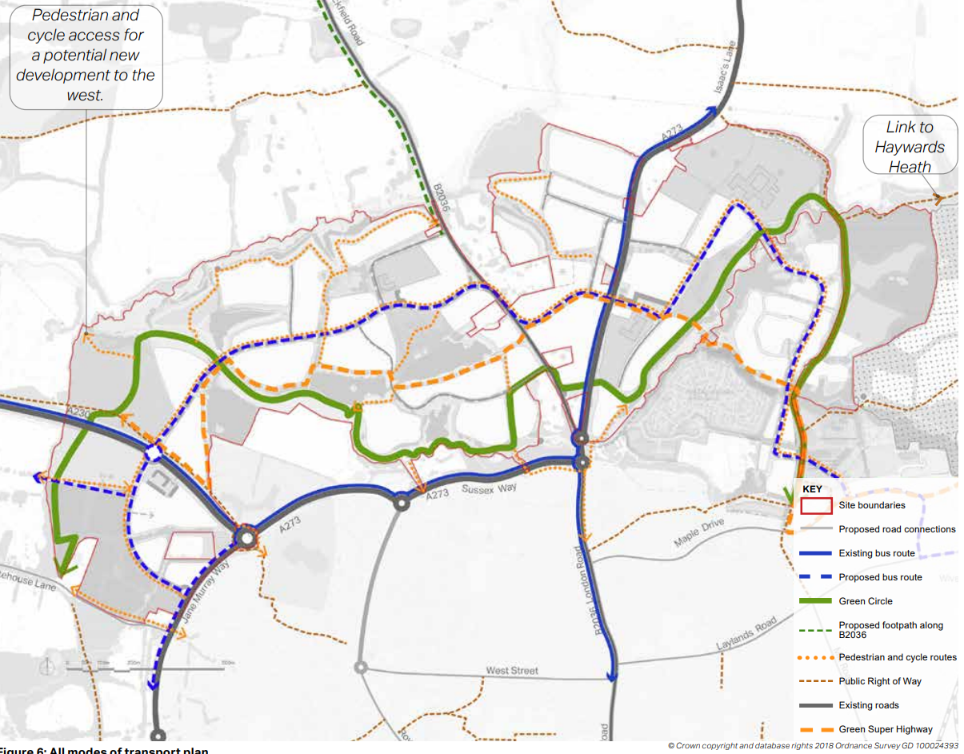 Design of paths
Widths
Footways 1.5m+, although could be as narrow as 1.2m where constrained.
Footways 2m+ when beside a carriageway.
Shared cycle/footways 3m+
Combined segregated width footpath with cycleway 5m+, with 3m+for cycleway and 2m for footway
Gradient
All paths will be a maximum of 1:20 for gradient, although could be upto 1:12 in short sections
Steps to be avoided, although ramps will be provided if unavoidable
Surface
Footways – Asphalt with grey coloured chips or natural stone or slabs in feature areas
Shared cycle/footways – Asphalt with grey coloured chips machine rolled
Green Circle – Asphalt with buff colouring
Green Super Highways – Asphalt with green colouring