West Sussex County Council is wanting Public engagement for view of potential new cycle routes across West Sussex. Engagement and Consultation will initially be in two phases, phase 1 is initial engagement, and phase 2 is formal consultation, however there may be later rounds of consultation if required.
In this phase 1 (initial engagement) period, WSCC are looking for the public's views on five new cycling routes. These are:
B2144 Oving Road in Chichester between the A27 & A259
A259 Shoreham to Brighton
Lancing and Somping

Red Route – A27/Busticle Lane to A259/Western Road
Orange Route – A27/Grinstead Lane to A259/South Street
Green Route – Lambleys Lane/Upper Brighton Road to A2025/Grinstead Lane/Crabtree Lane
The Lancing & Somping routes, along with the A259 Shoreham to Brighton schemes have had aspirations for active travel for a while, and are now part of the district's LCWIPs. Drawings of these scheme were published in early 2019 under the "Shoreham Area Sustainable Transport Package Feasibility Study"
WSCC are accepting comments from the 8th March till 5th April here. These comments will help shape the schemes and further engagements.
B2144 Oving Road, Chichester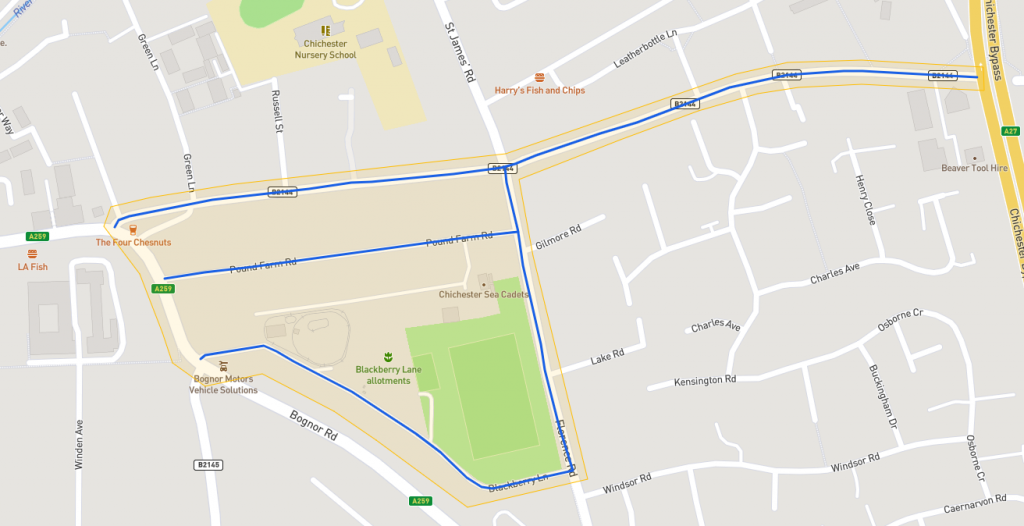 Currently the Junction of the B2144 & A27 is being rearranged to prevent through traffic and right turns to/from the B2144, except for buses. This is part of the new housing development on the Eastern side of the A27. It is excepted the new restrictions at this junction will reduce traffic along the B2144 and be desirable for NMUs, especially those moving into the new development.
Improvement here are likely to include:
Dedicated space for cycling
Wider footways
Raised tables along some side roads
Making some sections of the road one-way
A259 Shoreham to Brighton & Hove Boarder

As mentioned above, there was a previous study into a new cycle route along the A259, and due to lots of redevelopment of the waterside, it is important to provide proper cycle infrasturue whilst this opportunity exists. This route would become the NCN2, replacing the current route which zigzags around residential streets, it would also make the route 75% shorter being more direct at 5.5km rather than 6.8km. There are ongoing discussions with Brighton & Hove, with being able to tie it into their improvements.
The improvements being considered are:
Dedicated two-way space for cycling
Widened footways
Raised tables across some side roads
Floating Bus Stops (Bus Stop Bypasses)
New & Improved crossings for Pedestrians & Cyclists crossing the A259
Cycle Priority traffic signals
Lancing & Sompting schemes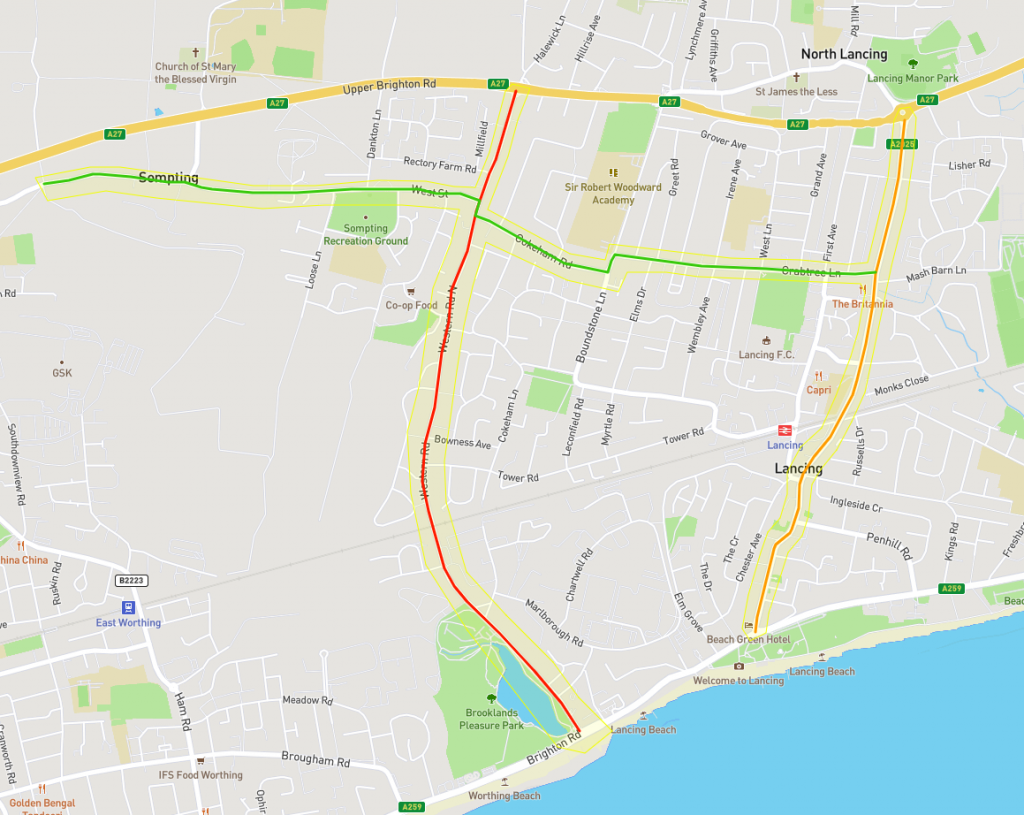 As mentioned above, there was a previous study into a new cycle route along these routes
The improvements being considered are:
Dedicated two-way space for cycling separated from the carriageway
Widened footways
Reduced speed limits
Raised tables across some side roads
Improved Bus Stops
New & Improved crossings for Pedestrians & Cyclists crossing busy roads