As a result of further consultation earlier this year, and additional traffic modelling there has been some refinements to the proposed A27 Arundel Bypass, mostly to mitigate traffic concerns and environmental concerns.
Crossbush Junction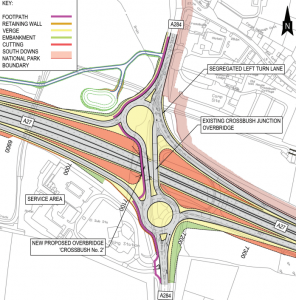 It is now proposed to build a second bridge for Crossbush Junction. Initially the existing bridge which was built in the late 1980s as part of the Crossbush Bypass in anticipation of the Arundel Bypass was going to be used for both directions which would of resulted in only 1 lane in either direction between the dumbell roundabouts. However, as a result of additional traffic modelling it has shown that a single lane in either direction would not provide sufficient capacity now and into the future, especially as there are large housing developments North of Littlehampton. This now means an additional bridge will be built on the Western side to carry northbound traffic as well as the new cycle/footway.
At Crossbush Junction it is now also proposed to provide a freeflow segregated left turn late from the A284 (current A27) onto the A27 heading Eastbound. Right turns out of the services also appears to now be banned, requiring those wanting to head south along the A284 into Littlehampton to turn left and do a u-turn at the roundabout.
Tye Lane / Western Tie-in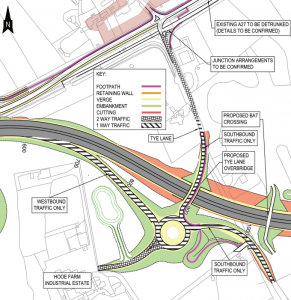 The western tie-in junction at Tye Lane has gained a few modifications. Whilst the bridge over the A27 will still be one-way heading southbound towards the A27 westbound on-slip, an additional roundabout will be added. This will provide better access arrangements to and from the Hooe Farm Industrial Estate, as well as providing in important one-way link into the villages. Traffic modelling showed that there would be large increase of traffic within the villages without this one-way road.
Bat Bridge
Just to the Eastern side of Tye Lane a bat bridge will be constructed which will provide a safer crossing for bats
Arundel Road Junction (Eastern side of Fontwell)
In previous consultations, it was proposed that access into Fontwell here would be stopped, with only access onto the A27. However these changes are no longer proposed, its unclear why these changes where first proposed and now removed, however its likely due to the short distance between the Tye Lane merge and this Diverge which is about 800m (standards require 1km for 70mph roads, but this section is proposed to be 50mph).
Missing information
Arundel Bypass is into its later stages of consultations, with National Highways preparing to submit their application next year. However some information from the scheme is still missing such as how the existing A27 will be changed.
Original Consultation Brochure can be found below