The A259 Exceat Bridge in near Seaford, East Sussex has had nearly £8m secured from the Government's Levelling Up Fund. The current bridge was built around 1870 and only features a single 4 metre lane requiring traffic to only go one way at a time.
During nearby events, and more recently 24/7 the bridge has worked under temporary traffic signal control to reduce queueing lengths, however this is far from an ideal solution due to the length of the single lane area, the access to the pub & high usage by pedestrians & cyclists in addition to a large amount of motor vehicular traffic.
East Sussex ran a consultation last year on their replacement proposals which included a new two-way bridge slightly north of the current one, along with a dedicated pedestrian deck which could include access at a future date when the NCN2 gains an off-carriageway path. The speed limit will also be reduced from NSL to 30mph in the vicinity of the bridge to retain low speeds for pedestrians, cyclists & horses crossing the road as well as the rearranged access to the pub.
Whilst funding has been secured, the new bridge needs to be approved by the South Downs National Park Authority as it is within the National Park Boundary. In the event that the SDNPA declines the application, the County Council can appeal to the secretary of state for transport who can overturn the National Park's decision.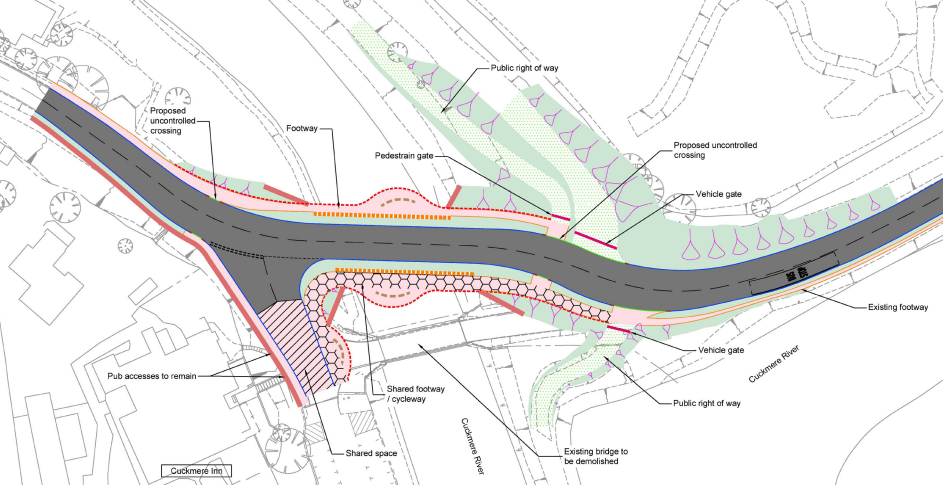 When approved construction should take less than 2 years to build the current bridge & remove the old one.