Its a slow news month for Transport projects in Sussex, so today we are covering a subject which was bought up last year.
Last January a "car free city centre & Ultra Low Emissions Zone" report was made public by the council, and includes initial options for the areas they should cover.
Car Free City Centre
The idea behind the "Car Free City Centre" is to remove all private vehicles from the streets in the city centre, allowing Public Service Vehicles (buses, taxies etc) to use some streets, whilst deliveries have to be made outside of certain hours. This would allow for the area to be more pedestrian friendly & enhancing bus services through their own traffic-free corridors such as Western Road at the moment.
There are Four options for the Car Free City Centre, each building upon the previous option which would allow the introduction of the options to be phased in an appropriate way. The options split the city centre into 8 distinct areas; The Lanes, North Laine, St James' Street, Regency, Western Road, Clifton Hill, West Hill & New England Quarter. A different solution would be applied to each. The three solutions are; Car Free Zones, Managed Access Zone & Low Traffic Neighbourhoods.
Low Traffic Neighbourhoods
Low Traffic Neighbourhoods or LTNs are formed by slowing traffic down, and prioritising the roads for NMUs using means such as:
Modal Filters (bollards) which exclude cyclists & buses where bus routes exist
Removal of on-street pay & display parking
Blue Badge Holder provision retained
Off-street car parks remain, however plan to remove them in the long term to reduce traffic even further
For simplicity, modal filters should apply at all times when enforced by signs & cameras since there are alternative routes available 24/7
Manged Access
Managed Access areas are one step higher than LTNs to reduce traffic even further. This can be achieved by the following means:
Access restricted to resident permit holders only
Enforced by ANPR
Blue Badge provision retained
Managed Access could be enforced 24/7, or only at certain times depending on the context of the area
Car Free
Car Free areas aim at removing all private traffic from the area, whilst allowing some motor traffic all of the time or part of the time. This could be done by:
Loading & Servicing restricted to certain time windows
Enforced by ANPR
All on-street parking removed
Blue Badge holders provision retained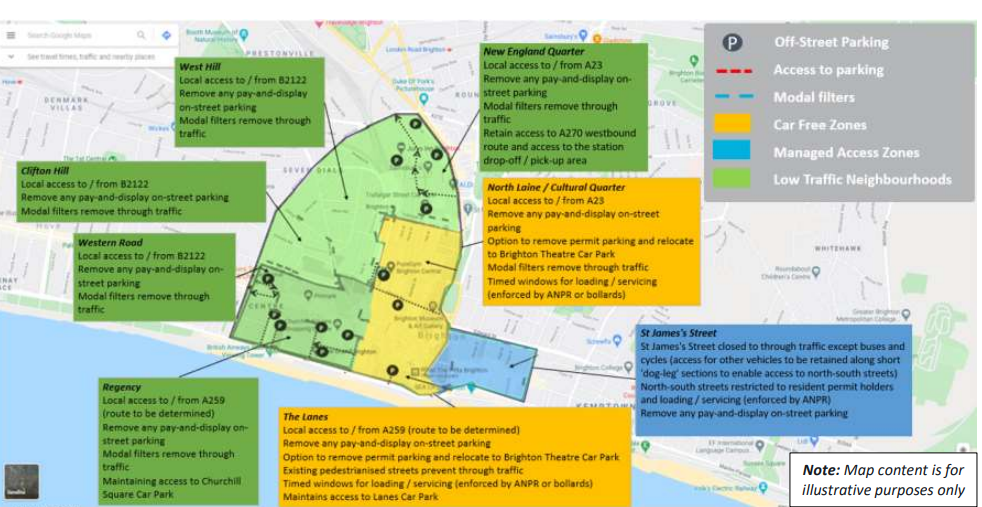 As the map above shows, The Lanes & North Laines would be "car free", excluding Church Road to provide access to the off-street car parking. The Lanes is already "car free" in a sense since it doesn't allow motor vehicles along its roads except for access, but some roads in the North Laines do still allow traffic.
Next the St James' Street area would become a managed access zone, including the roads north and south. Also Regency & Western Road would become LTNs, however they already largely do prevent rat running so only a few changes would need to be made.
Finally the Northern sections would become LTNs.
Some routes through the area could still allow traffic, such as the A270 through the New England Quarter & Church Road, However West Street (A2010) would be closed to through traffic since its the main route from the Train station to the Seafront and the pavements are not nearly widen enough for pedestrians during the summer.
Ultra Low Emissions Zone
Brighton does already have a Low Emissions Zone, however most people are not aware of it, since its on North Street/Western Road where only Buses & Taxies are allowed. The new proposal is to cover the whole of Brighton & Hove in an Ultra Low Emissions Zone to discourage polluting vehicles from the city, and charging a fee to enter if they do.
There are 5 options, ranging from the whole city south of the A27, to just everything south of the A270 & Kemp Town. All options were assessed across a range of parameters and option 1 is the recommended option. Option 1 covers the whole of Brighton & Hove south of the A27 since its relativity easy to set up & enforced due to its defined boundaries & limited amount of entry & exit points.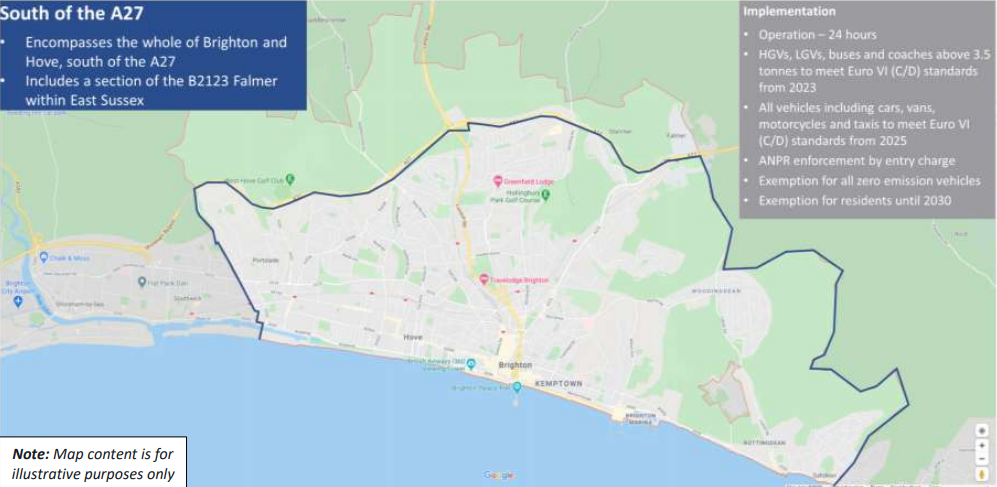 Future
The future of the "Car Free City Centre" & ULEZ is unclear at the moment. Its still an aspiration to deliver both in the coming years, but hasn't been on the agenda for over a year, but if the ULEZ is to be bought in, it needs to be soon since removal of ICE vehicles from our roads is ongoing.